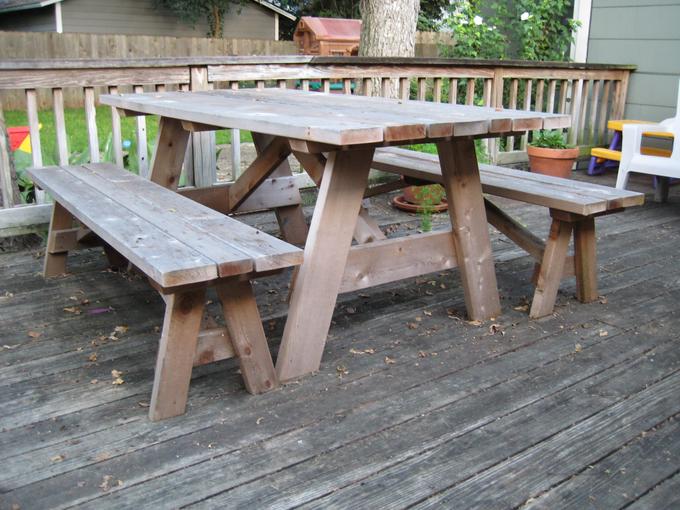 It seems easy, but it took me a while to come up with a sturdy, easy to build, and attractive picnic table for our backyard.
I like the look of teak tables that have a lot of slats in the top, but decided that would take too long to build. At the other extreme, I wanted something more graceful than the standard "benches attached" picnic table. I also don't like the look of legs that cross in an "X" pattern.
Construction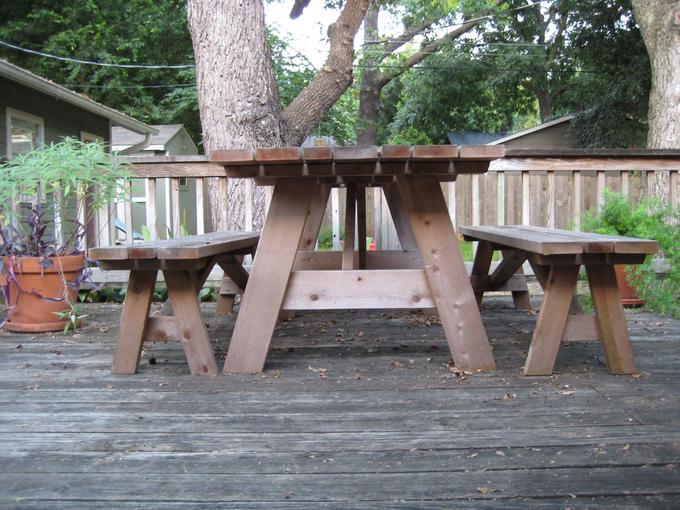 The wood is western red cedar. I did not apply a finish. All the pictures on this page were taken after the table had been outside for about 15 months. There are no visible signs of rot.
Western red cedar is a naturally rot resistant wood that many people in my area use for decking. Redwood might be more readily available in your area. If you can't find either of those, then I would use untreated construction lumber. I don't like the idea of eating off of treated lumber. Painting the untreated lumber will make it last longer.
All joints are connected using 3" deck screws available from any home center. I was concerned that the screws would not hold well in the soft cedar, but the table and benches are very sturdy.
To make the top 36" wide, I used five 2x6s and two 2x4s. The benches are quite wide, 15", which makes them very comfortable. The top of each bench is two 2x6s and one 2x4.
Note that when the benches are pushed up to the table, the bench legs side around the outside of the table legs. This allows the benches to side under the table. It also prevents the bench from tipping up if somebody sits at the very end.
This whole project can easily be built with a miter saw (hand or powered) and a way to drive screws (brace and bit or cordless drill).
Measured Drawing
If you would like to build one for yourself, e-mail me and I'll send you a measured drawing.