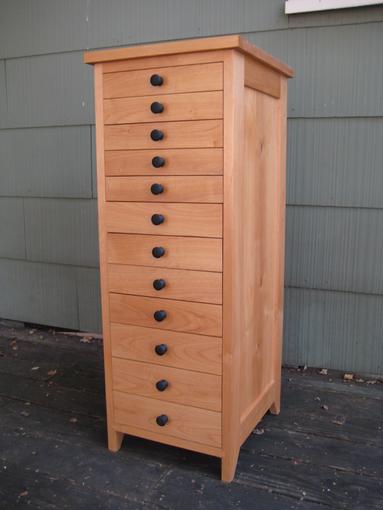 I built this small chest of drawers to go with a desk that I made for my wife a few years ago.
In the design, I mimicked a Shaker pattern of gradually increasing the height of drawers from top to bottom. As the Shakers increased the height of the drawer, they decreased the number of drawers. This cabinet has 5 small drawers (5.5 cm high), 4 medium drawers (7.0 cm) and 3 large drawers (8.5 cm).
I like the way it turned out, but I have no idea how my wife is going to remember which drawer contains the stamps!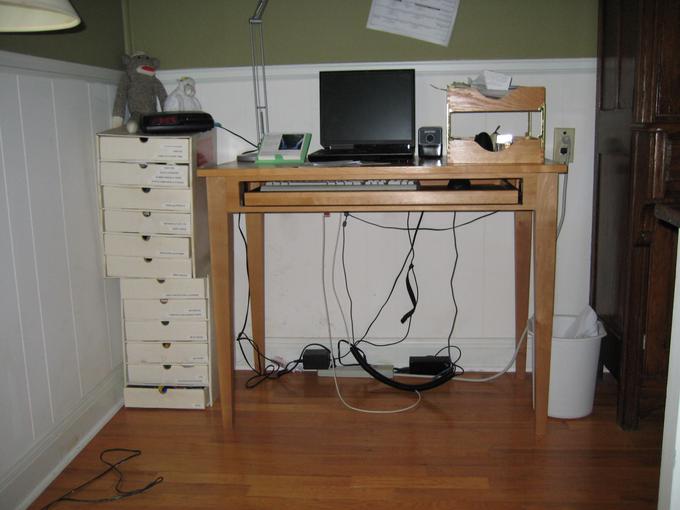 I built this chest to replace some cardboard drawers we got from the Container Store over 10 years ago. They held up remarkably well, even stacked as shown.
Construction
The primary wood is alder, the secondary wood is poplar.
The knobs, which are about 7/8" in diameter, are the smallest wooden knobs available at Home Depot, spray painted flat black. Much to my delight, they were well-made and didn't require any additional sanding.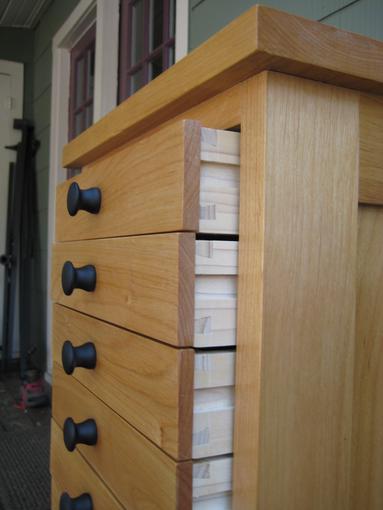 My next project won't involve 12 hand-dovetailed, inset drawers. I don't know what I was thinking when I designed this chest. With that many drawers, any errors add up very quickly as you install the drawer fronts. Tack on the fact that the cabinet wasn't quite square, and I had to do a lot of hand-fitting of the drawer fronts.
I cut the dovetails using a bandsaw and chisel. When I cut dovetails, I just use my normal, 1/2", 4 tpi blade. It works great.
The drawer sides are grooved so they can ride on wooden slides screwed into the side of the cabinet. I used side slides to try to pack in as much storage as possible. I was trying to duplicate the storage already provided by the cardboard drawers shown above.
I was concerned about the strength of the cabinet since it has no cross members. The top and bottom cross pieces are dovetailed into the sides and then reinforced with corner blocks. It is very strong, even without a back.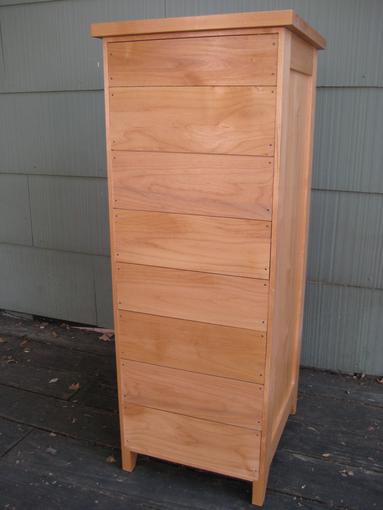 The back, which might be my favorite part of the whole piece, is ship lapped, 1 cm thick alder. Although it is hard to see in this picture, each board is nailed on with dark colored paneling nails I had left over from a home improvement project. They are ring-shanked and 1" long. Cut nails would probably have looked better, but these are much more readily available.
Measured Drawing
If you would like to build one for yourself, e-mail me and I'll send you a measured drawing.