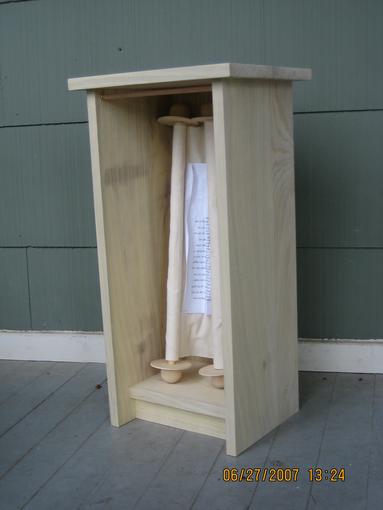 I built this cabinet as a prop for Vacation Bible School at my church. Each day was set during Jesus' time. A rabbi would ceremoniously remove the Torah from this cabinet and read the appointed scripture to the kids. The rod at the the top of the cabinet hangs a curtain made by another volunteer.
Construction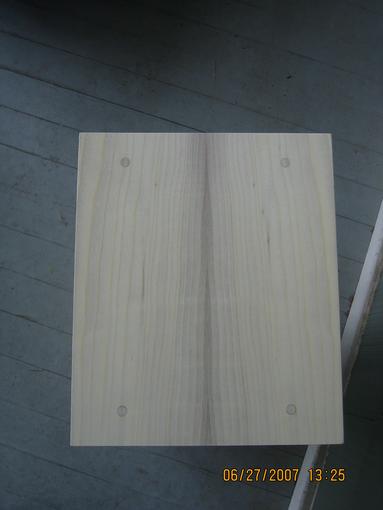 The wood is hackberry harvested from my front yard. I did not apply a finish so it matchs the scroll.
This is the first time I have used hackberry. We had a large tree removed from the front yard and I had it milled into 2" thick planks. It air dried for about nine months before I made this project. The piece of wood I used for this cabinet was almost perfectly quartersawn. When I resawed it, the wood was incredibly stable; it didn't warp at all. Overall, it was a pleasure to work with.
The first picture on the right is the top of the cabinet. The bookmatched grain produced a nice pattern.
The back of the cabinet shows the outer layer of the boards which were drying outside. If the hackberry gets even a little wet, it grows mold.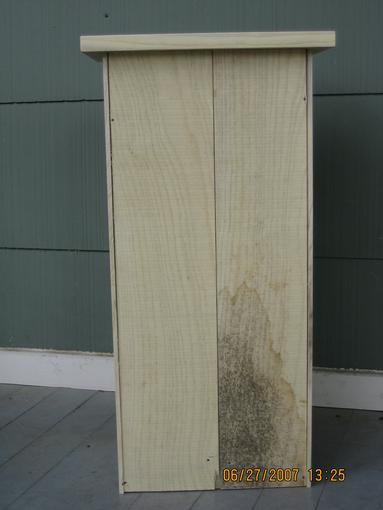 You can easily cut the mold off. However, I liked the idea of having the outside of the board, including the mold, on the back of the cabinet as a reminder that the physical things in this world are temporary. In hindsight, given contemporary worries about mold in buildings, I probably shouldn't have given the church a moldy prop.
To make construction fast and easy, I used butt joints with screws and then plugged the screw holes.
I made the plugs using a Veritas Tapered Snug-Plug Cutter in my drill press. The cutter burned badly as I used it, even at the lowest speed in my drill press, which is 650 RPM. Lee Valley's customer service later told me that the maximum speed for the cutter is 600 RPM in softwood and 350 RPM in hardwood. Hackberry is a hardwood. I had run it as high as 1100 RPM. They graciously send me a new one since I had burned the first one so badly that it lost its temper.
Overall, this was a fun, easy project.
Measured Drawing
If you would like to build one for yourself, e-mail me and I'll send you a measured drawing.