I built this saw till to store my hand saws: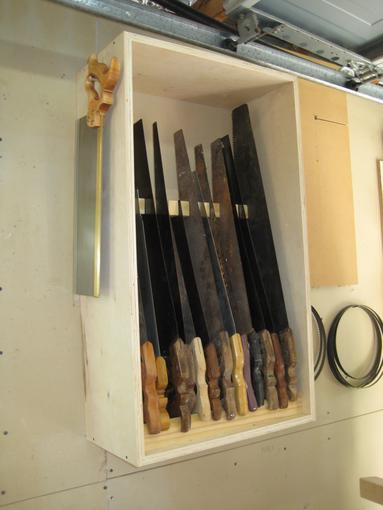 The design is based on Bill Taggart's article. His plans are quite complete. I have a couple of additional notes:
This is a good hand tool only project. That's how I built mine. The sides and top are plywood. Hand tools work fine on plywood.

I made the slots for the blades by using a thin kef hand saw and cutting two parallel lines, 1/8" apart.

I didn't have 1" dowel, so I just shaped a piece of 1.5" yellow pine to fit the shape of the handles.

I highly recommend making a full-scale mock up using all your saws. The saws are more different in size than you realize. For my dovetail and carcass saw, I built a little till. I got this idea from an article by Christopher Schwarz in Hand Tool Essentials.